The Holgate Academy are delighted to present Disney's Beauty and the Beast, to be performed on 1-3 December 2021 in Hillcrest Hall.
Tickets start at just £4 and are available NOW by clicking here: https://www.seaty.co.uk/holgatebeautyandthebeast
There is no booking fee for using the online ticketing facility.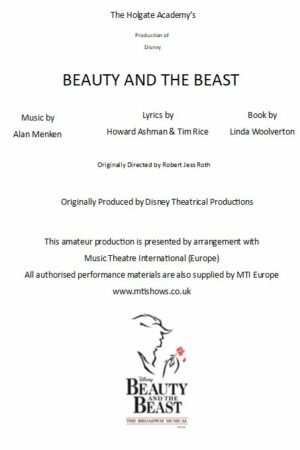 Join us, and our supremely talented acting cast, musicians and crew, as we showcase the very best of the performing arts by presenting Disney's Beauty and the Beast.
We can't wait for you to join us.
This is the story of Belle, a young woman who feels out of place in her French village. When her father is imprisoned in a mysterious castle, Belle's attempt to rescue him leads to her capture by the beast, a grisly and fearsome monster, who was long ago trapped in his gruesome form by an enchantress. The only way for the beast to become human once again is if he learns to love and be loved in return. However, once a magical rose loses all of its petals, all hope will be lost and he will stay a beast forever. The beast's enchanted household – populated by such characters as Mrs Potts, Lumiere, Cogsworth and Chip – watch anxiously as Belle and the beast grow to understand and befriend one another as the clock ticks and petals continue to fall off the enchanted rose. Will he be destined to remain a beast forever? Join The Holgate Academy's quest to discover who could ever love a beast…