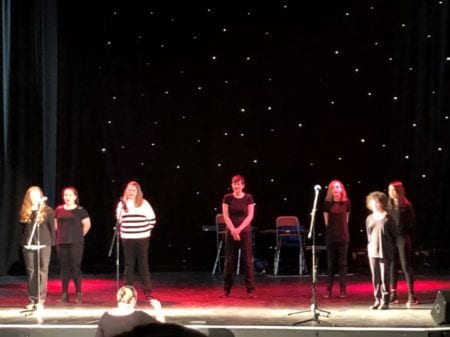 The Holgate Academy were delighted to take part in this year's Diverse Academies Creative Arts Festival, hosted at the Majestic Theatre in Retford.
Every year in December, academies from across the trust come together to perform for and with each other, and Holgate have been part of things right from the very first festival seven years ago.
This year was bigger than ever, and with the theme of "Cultures of The World" the Holgate students got their teeth into planning, choreographing and rehearsing a mash up of two very different songs about the continent of Africa, which also enabled our amazing students to showcase a diversity of skills.
We started with a lovely choral arrangement of "Africa" by Toto, where we worked hard on the harmonies and using some a capella skills too. We then mashed this up with "Africa (Waca Waca) by Shakira, where we were able to dance and celebrate the great performances choices our students made.
Students agreed it was a challenge keeping the performance down to three minutes (which was the time each academy had on stage) but it did mean we could focus on understanding the songs and perfecting stage techniques – hugely important in a venue like the Majestic.
We had a run through in the morning, and then the chance to perform not only to other students, but to Diverse Academies senior leaders (including Mr Ellis, who was dancing from his seat in the box) and to parents and a general audience. The Holgate students performed magnificently – acting with great professionalism, especially when one of our students was sadly unable to perform at the last minute due to illness. This didn't deter the Holgate team, who put on an absolutely brilliant performance.
At the end of the show, all of the students from every academy got back up on the stage, to perform "Wonderful World" complete with sign language, which we had been working on in our weekly rehearsals.
All too soon, it was time to leave, and unfortunately we had had to park the minibus over a mile away at Retford Oaks, so it was a good walk back before heading back to Holgate with a bus full of tired but very happy performers.
Huge congratulations to; Amy Leah, Elise, Chelsea, Shianna, Georgia, Chloe, Olivia and Libbi.