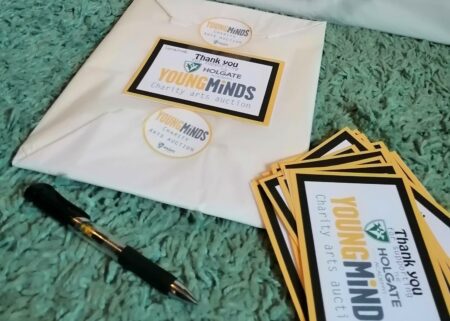 Recently our art department have been supporting the charity Young Minds with an art auction and raffle – we are thrilled to announce that they have raised an amazing £1468 that will be used to support the work Young Minds do in promoting the importance of children's mental health and wellbeing.
The arts team received over 100 pieces of arts and craft to sell, with an exciting bidding war on the final day for a number of pieces! We had many teachers submit work or items such as Miss Burridge with her wonderful candles, Mrs Draper's fab pet portraits, Mrs Mclaughlin with hand-made earrings and ex-Holgate teacher Miss McDowell's beautiful painting brushes and mirrors.
Miss Brackett, art teacher said: "Our department chose to raise money for Young Minds as support for mental health is something that we feel is extremely important right now. We wanted to help in any way we could to support young people, as well as promoting the work of local artists and businesses through the event."
Thank you to all of our staff who were involved in this auction, and to Young Minds for the work they do every day.