On February 9th, ex-Holgate pupil Marshall Coltart won Best Screenplay for his work 'The Bell Ringer' at the Moving Image Awards, held at the BFI, London. Matt Charman – Oscar nominated screenwriter of 'Bridge of Spies' – presented the best screenplay award to Marshall including a trophy, certificate and £200.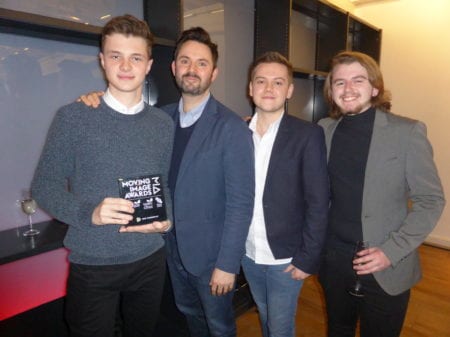 Accompanying Marshall to the event were two of his old film studies classmates – Charlie Worrall and William Walker – whose screenplays 'And Another Thing' and 'Super Dad' were shortlisted and made the 'highly commended' top 8.
All three screenplays were written during their A Level Film Studies course at The Holgate Academy and were submitted for consideration during the summer of their A2 year. The Moving Image Awards is a national competition available to all centres who deliver Film Studies.
Film studies teacher, Mr Morgan said: 'To have three pupils shortlisted is already a huge achievement – for Marshall to win is exceptional. I couldn't be prouder of all three pupils and I hope they pursue screenwriting further and develop their already considerable talents.'