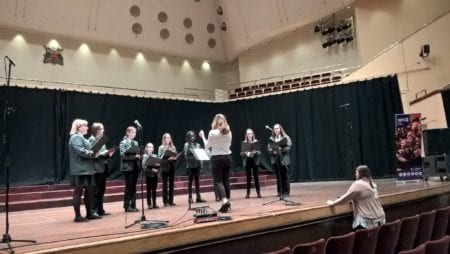 On Wednesday 27th March 2019 students from The Holgate Academy took part in the NYCGB Choir Concert.
We started the day with a quick rehearsal at school, and then a tram journey to the Royal Concert Hall in Nottingham. After arriving, we headed to our seats and were first up to rehearse in front of the other schools, despite there not being many of the other schools there on time.
Later, after the other schools rehearsals and another rehearsal from us, it was time to take part in the workshop. Our choir leader was Dominic, an amazing singer he led us to produce our own version of 'She`s On My Mind' by JF Cooper.
After the workshop it was time for lunch! Due to working so hard on our songs, we only had 10 minutes to eat but we made the most of it and built up lots of energy, along with some nerves, and got ready to perform.
We were all fired up, forgot about our nerves and walked together on to the stage. The audience wasn't very large but we tried our best to make performance the best we could. The Holgate Academy A Capella Choir, made up of Myself, Karen and Katherine (Year 8), Rhiannon (Year 7), and Hollie, Daisy, Chloe, Mea and Alana (Year 10), stepped on to the stage to perform our medley of 'Bridge Over Troubled Water' and 'Lean On Me'. We all felt great after and as though we had done Miss Blackburn and Mrs Mathews proud.
Finally, we walked on to the stage to sing our final song with the other schools, Dominic, our 2 fantastic soloists and the Fellowship of the NYCGB, who were by far the greatest small choir we had watched all day. Overall, the day was incredible and everyone had enjoyed it so much.
Emily, Year 8