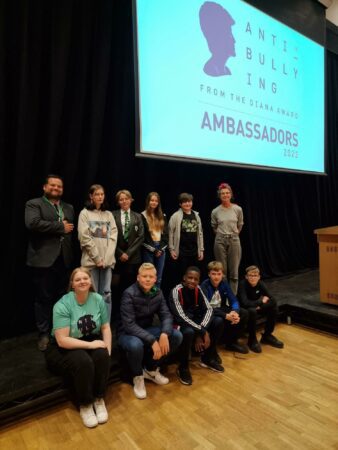 A group of our year 9 students attended a Diana Award training event recently and we're very proud to say that they earned the Anti-bullying Ambassador Award Badge!
The Diana Award is the only charity set up in memory of the late Diana, Princess of Wales, and it is based upon her belief that young people have the power to change their community, their country and the world.
The charity offers invaluable training for young people, enabling them to use the skills they've developed to help make a positive difference to their academy communities, and our students were keen participants!
All of our students enjoyed the training, with a couple commenting: "It was an enjoyable and interesting experience", and "It was great to look at how we can bring communities together on such an important subject".
When answering questions during the training about inclusion, one of our students, Elon, said: "People shouldn't be restricted by what other people think of them. People should have equal opportunities".
Final word goes to Mrs McLaughlin, who accompanied the students. "I'm really excited to see how these students will put their great ideas from today's trip into action. They were outstanding representatives of the academy and I could not have been prouder of them!"