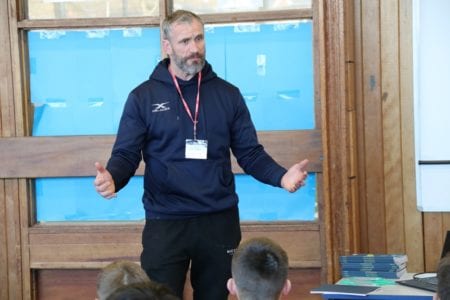 Former GB and England Rugby League captain, Jamie Peacock, inspired a group of Year 11 boys on Wednesday 23 January when he visited The Holgate Academy in his role as a 'Building Champions Mentor'. The visit was planned as part of a wider pilot project being trialled at the academy – 'Healthy Lives' – which aims to build confidence and resilience in students.
The rugby legend's talk focused on positive mindset and self-belief and, over the course of the next 10 weeks, Jamie will visit Holgate on four separate occasions to work with a group of Year 11 male students to help them unlock their potential.
Jamie said: "I am really excited to be working with students to help them find their inner champion and make a difference to their wellbeing."
Healthy Lives aims to address barriers to learning and engagement within the academy by supporting young people in a number of different ways.  It will help motivate and support students who struggle with stress management and anxiety, as well as those students who are not engaging in the educational system. Additionally, the project works with students on positive sleep habits and nutrition, as well as providing mentors who honestly reveal the types of issues they themselves dealt with as teenagers.
In addition to the 'Building Champions' sessions with Jamie Peacock, a number of other tools are being trialled. These include morning boxing classes with a personal trainer followed by a free, healthy breakfast, as well as self-reflecting and self-authoring sessions which will help the young people address barriers to their success and develop their emotional resilience.
The project is being led by teacher and Diverse Academies' lead practitioner for student wellness,  Clare Backhouse. She explains: "The project is very much in its infancy but we are confident that it really will make a positive difference in young people's lives. The pilot at Holgate is particularly targeted at Year 11 boys who struggle to express their emotions or to ask for support in school, and need inspiring role models such as Jamie. His session today will kick-start a programme geared at turning this around and developing resilience and confidence in these students, as well as behaviours and tactics which they can go on to use throughout their lives."
The project is being support by the Schools Advisory Service (SAS) which offers a range of wellbeing packages to schools. As part of Holgate's 'Healthy Lives' initiative, the SAS facilitated the sessions with Jamie Peacock and have also provided access to free resources, such as a tracking app which will measure sleep, exercise and nutrition to help monitor the success of the project.
Other projects under the 'Healthy Lives' umbrella are being developed and will be rolled out across other academies in the wider Diverse Academies trust, starting with Bracken Lane Primary and Redgate Primary Academy.