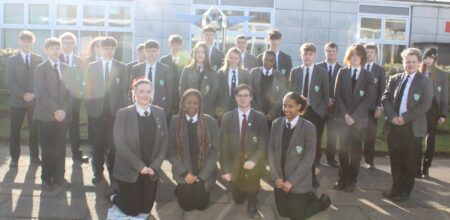 A massive thank you to our outgoing year 11 prefects who have formally handed in their prefect ties this week.
These students have played a huge role in academy life over the last year – supporting with everything from student interview panels to open evenings to seating audiences at school shows.
Here's what Mrs McLaughlin had to say about them:
"The year 11 prefects have made such an impact this year! Their enthusiasm and drive have been inspiring: leading charity collections, organising charity events, running clubs for younger students, supporting year leaders, representing the school, modelling expectations and organising competitions for other students.  It has been a pleasure to watch them mature over the past year into the confident leaders they are today. Thank you, prefects, for all you have done!"
It's true that they have been exemplary representatives of the school, conducting themselves professionally and politely at all times and always demonstrating Manners, Determination, Teamwork.  We know they will go on to achieve great things and wish them all the very best.