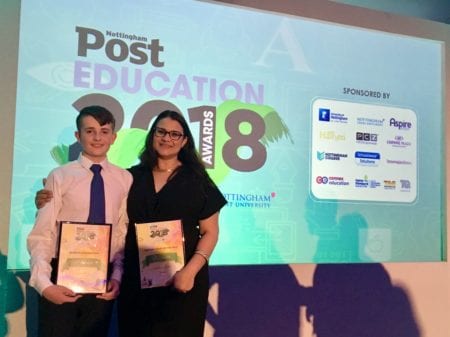 Last night was the Nottingham Post Education Awards and two members of The Holgate Academy were shortlisted as finalists.
Miss Chumun, a highly-regarded teaching assistant was a finalist in the support staff of the year category. Miss Chumun goes the extra mile to ensure everyone's experience of school is a positive one, recently playing a part in the addition of our new Accelerated Learning Room. Miss Chumun's unfailing commitment makes her an indispensable part of the team.
Lewis, a year 10 student, was up for 'Science and Engineering Student of the Year'. Lewis was an integral part of two of our STEM clubs last year – Lego Robotics and the Go4Set project. He worked diligently to build and programme a complex robot design and was a key member of the team who finished in the top 50 nationally. Lewis' inquisitive nature and enthusiasm was noted on a workplace trip as part of the Go4Set project and showed knowledge beyond his years.
It was a brilliant evening for The Holgate Academy, with both Lewis and Miss Chumun announced as winners of their respective categories. Congratulations – we're all very proud of you both!