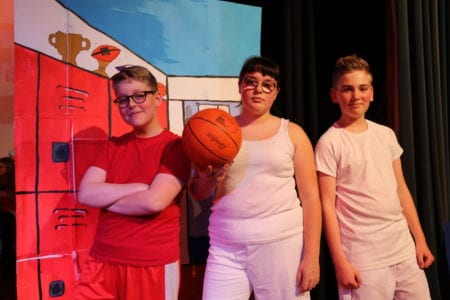 The Holgate Academy pulled out all of the stops with this year's return to a big winter show, and what better way to do it than with High School Musical?
More than 30 students from across all of the year groups were involved in the production, and demonstrated incredible commitment, determination and ability, rehearsing until 5:00pm three nights every week since the start of this term.
Learning lines, complex dance routines and lots and lots of songs, the students (quite literally) stepped up to this immense challenge, and put on a show that wowed our audiences.
The production was not without difficulty, and the cast and crew coped with all manner of things from changes in casting, completely new set ideas and even the entire stage lighting rig blowing ten minutes before the second performance. But their resilience showed through in everything that they did, and they should all be as proud of themselves as we are of them.
Whilst this was a true ensemble production, with every single cast member playing hugely important roles (without which the show would not have gone ahead) we would like to offer huge congratulations to Joel Palethorpe, Emily Chamberlain, Weronika Stefaniak, George Hemsley, Hollie Goddard, Josh Chilton, Daisy Bingham, Amy-Leah Edwards, Jack King and Chloe Day for taking on the lead roles, and showing huge stage ability.
We are proud of the whole cast, and the crew which also included students; notably Jack McCarthy on the sound desk, and Chelsea Day as deputy backstage manager.
The directing and production team of Miss Burridge, Miss Blackburn, Mrs Mathews and Mrs Morris would like to thank absolutely everybody who supported the show in any way, and also the evening audiences and Holgate and Beardall Fields Primary Schools for being such fabulous people to perform to.
We recorded the show, so if you would like a copy of the DVD or a digital version, then please email rmorris@holgate-ac.org.uk
We can't wait to get started on next year's big school show – we've already discussed some ideas – and you can be sure that it will be even bigger and (if possible) even better.