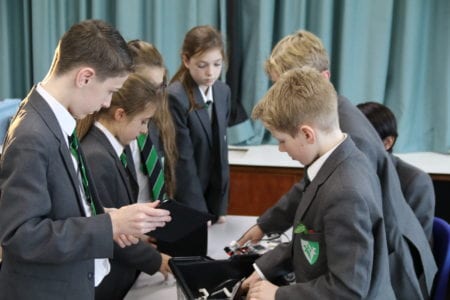 In October 2018, our Lego Robotics Club reformed after the success of last year's competition.  There were some familiar faces from last year, with plenty of newcomers, too! We were lucky enough to win two Lego Mindstorm kits with the aim of entering a regional, and hopefully national, competition in March 2019.
The students started by building a basic robot to race over a short distance.  In the coming weeks, we would add sensors (colour, touch and gyro) to enhance our robots, work on gears to maximise the speed and altering designs to increase stability.  There are two challenges and two presentations to prepare for.  The first is a speed challenge, a drag race over four metres.  The second mat challenge involves gathering engines for a plane, collecting humanitarian aid to take on the flight and getting the engineer to the plane ready for take-off.  Our robot then has to climb a steep ramp for bonus points.  This is proving to be a challenge as the codes are incredibly complex and are needing lots of alterations to crack!
With just two school weeks left, it's all systems go to get ready for competition day.  It's going to be tight to be ready, but our team is enthusiastic and determined to make finals day this year!