As we head into the start of a new academy year, and welcome all of our new year 7s to The Holgate Academy, there's just time to review the incredible week that some of our newest students were lucky enough to participate in.
Our summer school ran during the week of 9th August and all of our new year 7 students were invited to come along and spend a week at The Holgate Academy. We had huge interest in the summer school and 160 of the year group were able to join us.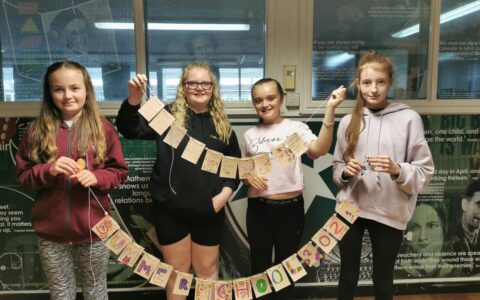 It was an exciting start, with all students allocated to their team and their main teacher for the week by 9am on Monday. They were given a base classroom for the week and a box of supplies so that they had everything they needed for the whole week.
The first big group activity was the live quiz. Every day, Mrs Morris set the students a quiz and each team competed against each other for points. The first day's quiz was a little bit different, however. All groups joined in on a giant Microsoft Teams call and the quiz was set. Then all teams had to keep their cameras on so that they could all check on each others' progress. Meanwhile, Mrs Morris hid somewhere in the Hillcrest site, and showed a brief shot of her new surroundings. It was then up to the teacher in charge of each group to work out where she was, show the group on the map of Hillcrest, and send them off to find her.
The Fantastic Four (Mr Packwood's team) were particularly quick at this, but it was Mr Randall's Magnificent Seven who set the early pace by being the first team to arrive (within 4 minutes) AND with a host of right answers! Ms Clayton's Roadman Peppa Pig Team sadly didn't make it at all, but they did manage to get almost of the answers right when they submitted their quiz sheet.
This exciting start to the week was matched only by the rest of the morning's activities which included making a board game, designing a clay "worry monster" keyring, and an orientation treasure hunt where teams were given clues to words hidden around the academy in order to complete the sentence, "The Holgate Academy's motto is manners, determination and teamwork." All teams had their own colours of words to find, and it seems there may have been some foul play as some of the words were not where they should have been – but all groups managed to complete the tasks.
Tuesday, Wednesday and Thursday were jam-packed days. Every day started with the daily quiz and the daily challenge (to achieve even more points on the leader board) with Ms Wilford's Nobody and Ms Grundy's Gremlin Gang being particularly competitive. But it was Mr Borges' The Baddie Group, Ms Draper's NFFC and Ms Hedworth's Shrek's Minions who really got invested in the competition side of things, producing not only extra work, but also lots of compliments to the judging panel, which was very kind and not at all creeping.
Throughout these three days, all students completed sessions on a carousel of activities, including some maths lessons, some work on poetry, a Harry Potter adventure, a murder mystery to solve, badge making and continuing with the clay work. They were also treated to active outdoor Shakespeare, where they learned some amazing Shakespearean words and themes, kickball rounders with Mr Perrin (which was a huge hit) and the very exciting alka seltzer rockets sessions.
Amongst all of this was also the chance to do some kahoots, some "getting to know you" games, and lots of time with arts and crafts.
All too soon it was Friday, which was the day to finish off anything that hadn't been done, and also the chance to use all of the sweet wrappers, biscuit packets and bottles of water we had used over the week in our recycling sculpture challenge. Mr Borges' team created the most beautiful tree sculpture, but the TA staff voted Ms Wilford's team's electric car as the winning sculpture.
Friday was also the day we reflected on the week, and thought about what we had learned, what we had enjoyed and what we were looking forward to about September. Then we all had one final huge whole-group meeting outside in the Quad, where each team got the chance to stand up in front of everyone else and talk about their experience of summer school. It was also time to announce the winners of the leader board challenge, and although they were almost caught at the end, the team that had been in the lead almost the entire week did end up winning – it was a huge round of applause to Mr Randall's Magnificent Seven.
One last half an hour of outdoor time, and then students left the site with a stationery pack ready for a fantastic September start.
It was an absolutely brilliant week, with some incredible work being produced, but more than anything it was a great chance for our year 7s to meet some new friends, get to know the academy and meet some of their new teachers. They were all incredibly invested in the work which they produced, worked very hard and joined in with all of the activities.
Here are some quotes from students and staff summing up summer school week:
Year 7 students
"I wish we could do this for the rest of the holidays"
"I can't wait to come here in September"
"Magnificent Seven are the best"
"This is the most fun summer holiday I've ever had, although I am going to Cornwall next week"
"I actually love Holgate already"
"Mrs Morris, your hair is beautiful. It's very…hairy. Can we have extra points please?"
Summer school staff
"Great week! Really enjoyed watching our new year 7's build confidence, friendships and enthusiasm, ready for September."
Mr Perrin
"Had a most wonderful time, really enjoyed the activities.. Think I enjoyed some more than some students! Looking forward to the next one 😁 Was lovely to be able to meet the children in a relaxed atmosphere and get to know the characters."
Mrs Green
"Fantastic chance to meet the students and have time to know them better in different activities."
Mr Borges
"Lovely week had a brill time. Students smiling having fun. Lots of different things to do. Here's to the next one."
Ms Needham
"Let's do it all again next week!"
Mrs Morris