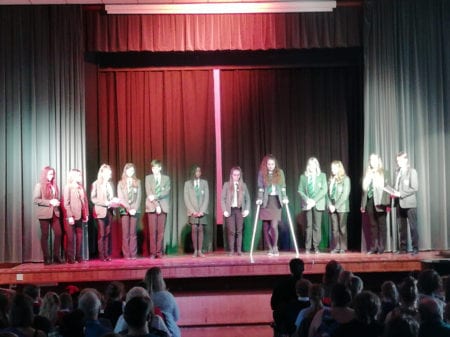 The 11th Annual Holgate Academy Joint Schools concert took place this year on Weds 27th February. Every year, our friends in some of our local Primary Schools, come to Holgate to perform songs that they have rehearsed in their own settings, and then all join together in one giant choir to sing a finale number.
Pupils from Butlers Hill Infant School, Beardall Fields Primary, Holgate Primary, Edgewood Primary, The Holgate Academy and the Hucknall 6th Form Centre all took part in a wonderful evening of song, music and entertainment, supported by a packed-out audience.
The children were on fine form, as we were treated to songs such as Bibbidi Bobbidi Boo, True Colours, Another Day in Paradise, Fight Song, Mama Mia and many more. Each school came to join us at Holgate for lunch, and then we had only one rehearsal before our audience came in for a matinee performance. They performed brilliantly, and by the time the evening came along, the confidence and talent on display had everyone clapping and singing along. We also heard a wonderful flute solo, from Year 10's Eleanor Watson, who was accompanied on the piano by her Mum. A special mention here also, to the lovely soloists from the Edgewood choir.
The finale number was a huge treat. All of our participants climbed onto the Holgate stage and sang an absolutely wonderful version of "A Million Dreams" from the Greatest Showman. We definitely saw more than one person wiping away tears of pride.
A really fantastic day, where the children not only demonstrated their incredible skills and talents, but also showed tremendous courage to stand on the big stage in front of more than 200 people. They were all impeccably behaved, and a real credit to our town and our schools.
We would like to thank all of the brilliant staff in each of the schools for supporting and rehearsing with their children, and special thanks to Mrs Mathews (our new head of music) for both compering the show and conducting the choir, and Mrs Morris for presenting and organising the event.
We would also like to thank the students from The Holgate Academy choir who not only sang beautifully, but also worked very hard to collect tickets, show people to their seats, hand out programmes and generally run the afternoon and evening.
We can't wait until next year!