In year 8 students have 30 lessons a week, these are allotted as follows: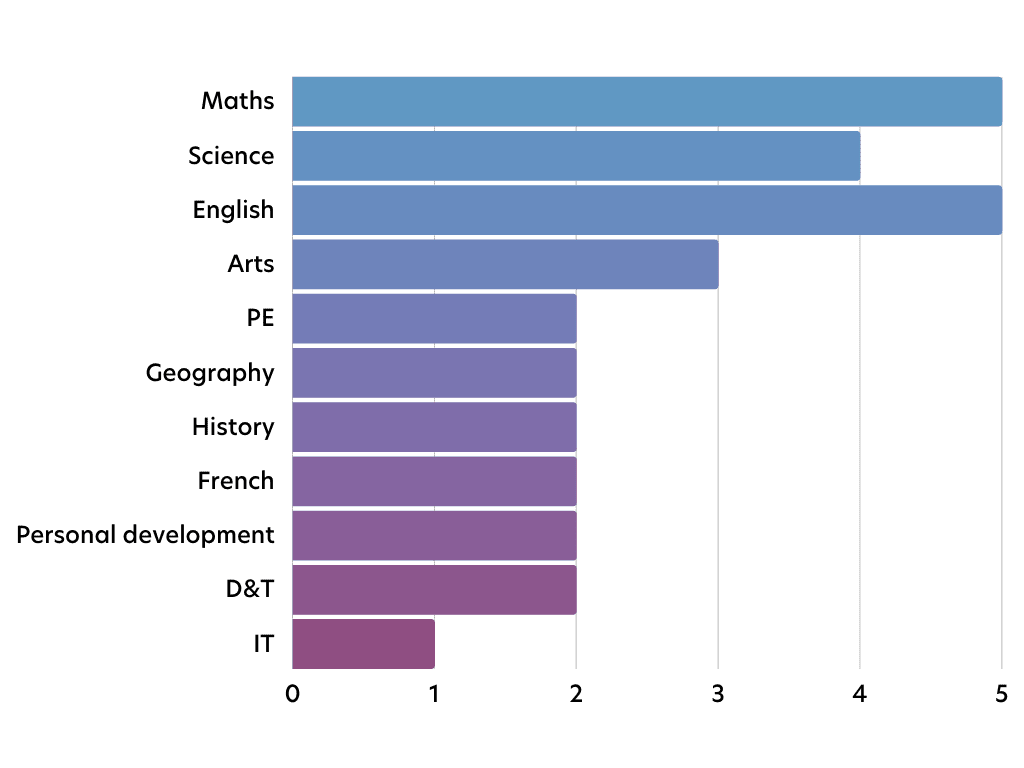 Design and technology – This is a rotation where students study food, graphics, photography, resistant materials, textiles and first aid
Personal development – Includes religious education
Arts – This is one period of art, drama and music
Below is a general overview of the topics students are taught throughout the year in each subject.
For a more in depth outline of each subject please click on the link (in each drop down) to view the full subject page.
If you would like to speak to us about any aspect of our curriculum please get in touch.
Art
Autumn term 
Baseline and Hucknall
Observational drawing
Mark making and texture
Colour
Hucknall project exploring Hucknall town's history and successes
Spring term
Still life 'generations' and portrait
Observational drawing
Painting
Tonal
Mixed media
Exploring generations through objects and still life
Proportions
Expression
Identity
Artist influences
Summer term 
Wider world and recycled art
Exploring art from around the world and how artists can reflect on what is happening in modern times
Creative ideas and application
Environmental issues
Group work
Location art
Computer science
Autumn term
• Computing understanding – introducing computer science
• Cyber bullying – design and develop an anti-cyber bullying video
Spring term
• Superhero website – using HTML to design a website about a superhero
• Datasheep – students must design a fit-for-purpose database
Summer term
• Multi-level game design – using Kodu Game Lab to develop a game with at least three levels
• Computing knowledge and safety – malware and other threats to online safety
Design and technology
Technology rotation
Workshop – trinket box: students will apply basic CAD design and apply basic joints to a wooden box.
Food and nutrition – health and safety along with exploration of nutrition, cutting techniques and characteristics of a broad range of food.
Textiles –  Dias de los Muertos:  students will explore the design aspects of this festival to create a 3D textile piece looking at key stitches.
Photography – please refer to individual photography information.
Graphic communication – students are given a design brief to design and make a new toy box.
Drama
Autumn term
Blood Brothers scripted
Spring term
Devising/practitioners
Summer term
Craig and Bentley (historical)
English language and literature
Autumn term
Villains in literature. Core text: William Shakespeare – Macbeth
Key knowledge:
Elizabethan context
Shakespearean language
Gothic description
Key vocabulary:
Aggression
Empathy
Prejudice
Protagonist
Antagonist
Supernatural
Revenge
Ambition
Loyalty
Guilt
Fate
Conscience
Soliloquy
Key skills:
Develop comparative skills with a focus on language, structure and writer's intent
Writing to persuade
Writing to argue
Creative writing through description
Revisit grammatical constructions from year 7
Spring term
Crime and punishment Core text: The works of Arthur Conan Doyle
Rationale: To explore how crime and punishment have altered during history, exploring how writers have depicted crimes and how religion can have an effect on how crimes are viewed.
Key knowledge:
Victorian context
Crimes across time
Human rights
Religion
Punishment
Key vocabulary:
Symbolism
Relationships
Morality
Mystery
Inference
Deduction
Sociopath
Morality
Perception
Humour
Perception
Key skills:
Develop a personal response to fiction and non-fiction, with a focus on language and structure
Narrative writing
Extensive range of vocabulary
Summer term
Doomsday. Core text: Suzanne Collins – The Hunger Games
Rationale: To explore the presentation of societies in literature with a focus on the dystopian.
Key knowledge:
Dystopian fiction
Segregation
Discrimination
Traditions
Roles in society
Class
Key vocabulary:
Superior
Subservient
Prejudice
Society
Divides
Forbidden
Debating
Key skills:
Return to comparison, adding personal response and introducing evaluation
Developing a character voice through creative writing
Confidently identify and apply grammatical constructions.
French
Autumn term
Theme: identity and culture
Talk about clothes and give opinions on different styles
Learn about the weather
Describe what you wear for different occasions
Discuss week-end activities and give opinions and preferences
Talk about daily routines
Talk about sports, leisure activities
Name parts of the body & sports injuries
Spring term
Themes: identity and culture, local, national, international and global areas of interest
Learn about different TV programmes
Talk about music genres
Give detailed opinions
Talk about film genres
Talk about reading preferences
Summer term
Theme: local, national, international and global areas of interest
Destination vacations and holiday research project
Learn about old and new technology
Talk about how you use it for leisure activities
Identify the risks of social media and network sites
Discuss pros and cons of new technology
Talk about favourite technology and gadgets
Talk about holiday destinations
Describe your ideal holiday
Describe a past holiday, where you sent, and what you did
Geography
Autumn term
Brazil
• What is Brazil like?
• Inequality in Brazil
• Development indicators
• Biomes
• Amazon rainforest
• Animal and plant adaptations
Coasts and oceans
• Erosion and transport
• Coastal landforms
• Management of our UK coastlines
• People and oceans
• Coral reefs
• Plastic problems
Spring term
Fantastic places
• Svalbard
• Grand Canyon
• Mt Everest
• Forbidden places
• Great Barrier Reef
Japan
• What is Japan like?
• Sushi
• Ageing population
• Structure of the earth
• Power problems
• Japanese earthquake
Summer term
Changing shape of Britain
• River basin
• River stages
• Meanders
• Flooding
• Somerset floods
Globalisation investigation
History
Autumn term

The Tudors
• Who was Martin Luther?
• What was the Reformation?
• Why did Henry VIII break from Rome?
• Was Mary Tudor 'Bloody Mary'?
• Why did Elizabeth defeat the Spanish Armada?
• Lives of Black Tudors including John Blanke, Mary Fillis and Diego
The Stuarts
• Was the Gunpowder Plot a conspiracy?
• Why was there a civil war?
• Why was Charles I executed?
• How was England governed without a monarch?
• Why were so many people accused of witch craft?
• Why did so many people die of plague?
Spring term

Empire
• European exploration of the New World
• What was the British Empire?
• How should the British Empire be remembered?
• British rule in America
• The impact of the empire on India
• The scramble for Africa
• The legacy of the British Empire
Slavery
• The transatlantic slave trade
• Life on the Middle Passage
• Life on the plantations
• Slave resistance
• Who benefitted from slavery?
• Nottinghamshire and slavery
• The abolition of slavery
• Modern slavery
• Modern racial attitudes
Summer term

Industrial Revolution
Industrial towns and cities
Inventions
Transport
Working in the factories
Public health
Popular protest
Women in the Industrial Revolution
Democracy and society
Edwardian Britain
Liberal reforms
What can the Titanic tell us about attitudes in society?
Suffragettes fight for the vote- tactics used, outrage at Kew, Emily Davison
Mathematics
Autumn term
Fractions, conversions and statistics
4 operations with fractions
Unit conversions
Compound measures
Real life tables
Averages including those from tables
Comparing averages
Cumulative frequency and box plots
Spring term 
Algebra, area and 3D shapes
Substitution
Solving equations
Laws of indices
Inequalities
Changing the subject of a formula
Coordinates and linear graphs
Area and perimeter of shapes
Volume and surface area of 3D shapes
Summer term
Ratio, proportions and angles
Angles in parallel lines and polygons
Area of trapezia and circles
Line symmetry and reflection
The data handling cycle
Measures of location
Music
Autumn term
Find your voice 3
Keyboard skills
Spring term
Samba
Keyboard skills 4
Summer term
The Blues
Rap music
Personal development
Autumn term
Hinduism – me myself and I – healthy choices
Confidence
Target setting
Managing my behaviour for success
Emotional literacy
Mindfulness
Smoking
Cancer
Personal safety
First aid
Spring term 
Inspirational people/Islam (see RE curriculum), sex and relationships
Consent
Sexting
Dangers of porn
Online safety
Homophobia
Tolerance
Stereotyping
Radicalisations
Extremism
Summer term
Civil rights rules and laws – local government careers
Income and expenditure
Careers skills
The functions of local government
Decision-making processes
Physical education
Students study the same activities in years 7 to 9 as this gives them the opportunity to show a greater level of progression in their tactical awareness, knowledge of the rules and skill level in each of the activities.
| | |
| --- | --- |
| Girls | Boys |
| Trampolining | Football |
| Table tennis | Rugby |
| Dance | Handball |
| Handball | Boxercise |
| Boxercise | Trampolining |
| Netball | Table tennis |
| Rounders | Rounders |
| Athletics | Athletics |
| Fitness | Fitness |
| Football | Cricket |
| Tag rugby | Softball |
| | Frisbee |
Photography
Fast shutter speed – bubble photography, splash photography and levitation photography
Slow shutter speed – light painting and blurred motion
Exploring editing skills
Religious education
Autumn term: ethics and Hinduism
Introduction to ethics
Marriage
Marriage in Islam
Divorce
Introduction to Hinduism
Hinduism One God
Hinduism One God 2
Deities
The Person Atman
Human life
Worship
Spring term: inspirational people and Islam
Sporting heroes
Malala
Dietrich Bonhoeffer
Irene Sendler and Corrie Ten Boom
Assessment
Introduction to Islam
The five pillars of Islam
Mosque
Prayer
Qu'ran
Islamophobia
Summer term: Martin Luther King/rules and laws
The Civil Rights movement
The Bus Boycott
Success and suffering
MLK speeches
Free at last
Introduction and the golden rule
The 10 Commandments
Kosher
Kosher 2
Shabbat
The 5 Ks
Muslim food
Muslim dress
Science
Autumn term
Health and lifestyle
The Periodic Table
Space
Spring term
Ecosystem processes
Separation techniques
Electricity and magnetism
Summer term
Reproduction
Acids and alkalis
Energy
Light