In year 9 students have 30 lessons a week, these are allotted as follows: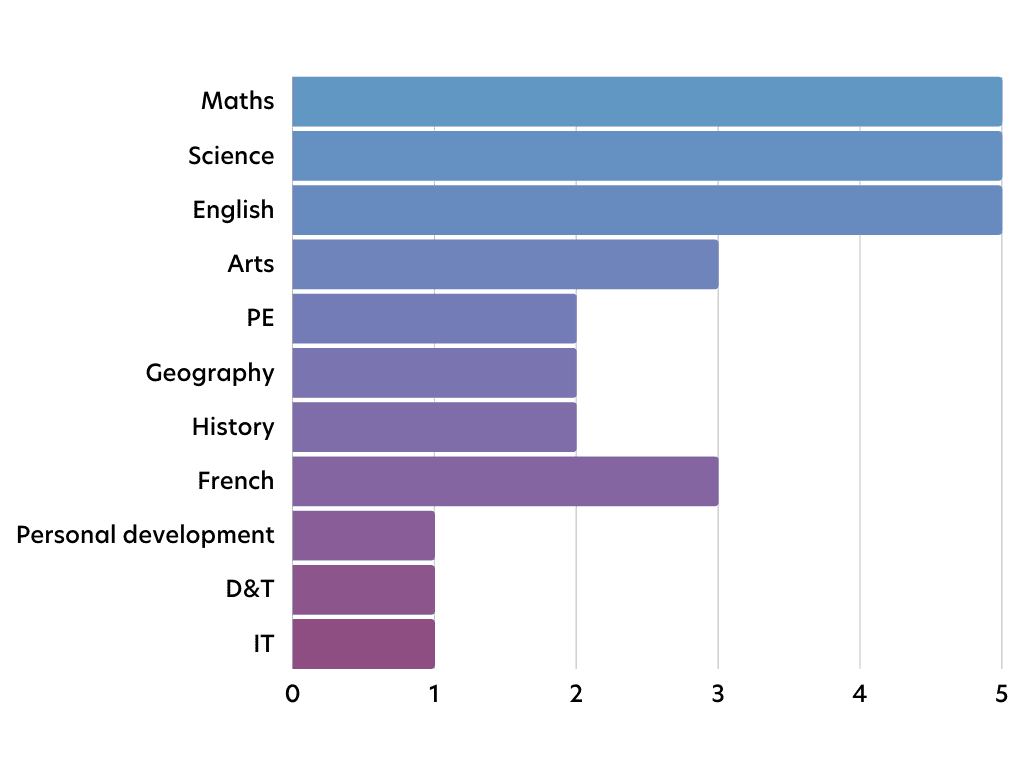 Design and technology – This is a rotation where students study food, graphics, photography, resistant materials and textiles
Personal development – Includes religious education
Arts – This is one period of art, drama and music
Below is a general overview of the topics students are taught throughout the year in each subject.
For a more in depth outline of each subject please click on the link (in each drop down) to view the full subject page.
If you would like to speak to us about any aspect of our curriculum please get in touch.
Art
Baseline and introduction to creative careers
Observational drawing
Mark making and texture
Colour
Introduction to creative careers topics that will be explored throughout the year:

Illustrator
Animation
Architecture
Artist
Fashion
Theatre design
Computer science
Autumn term
• Introducing Python – developing skills in Python programming language
• Digital graphics – design a digital graphic using Photoshop etc for a client
Spring term
• Python Turtle – Using Python to find solutions to challenges
• Digital animation – developing an animation to advertise a new product coming to market
Summer term
• Hardware and software – computer science focused unit introducing the difference between hardware and software
• Digital video – design, shoot and edit a trailer for a new horror film
Design and technology
Technology rotation
Workshop – mobile phone holder – students will work with plastic to create personalised mobile phone holder
Food and nutrition – health and safety and an introduction to cultural foods and tastes along with key skills such as boiling, sautéing and simmering.
Textiles – creative textiles
Photography – please refer to individual photography information
Graphic communication – mini skateboard design, students design and then apply effective design to a mini structure
Drama
Autumn term
DNA scripted
Spring term 
John Godber (playwright)
Summer term
Devising/stimulus
English language and literature
Autumn Term
Controversial issues. Core text: Willy Russell – Blood Brothers
Rationale: To explore how writers depict inequality in literature. To explore how everyday issues are reported and to challenge viewpoints.
Key knowledge
Exploration of gender divide
Treatment and expectations of women over time
1980s/1990s Britain
Class systems and social divide (modern texts)
Key vocabulary
Class divide
Poverty
Racism
Abortion
Sexism
Feminism
Misogyny
Patriarchal society
Gender
Oppression
Key skills
Develop an extended personal response to literature
Explore the significance of context and perspective
Develop a voice: formality, informality and satirical
To practise narrative writing
Accurately identify and apply grammatical constructions
Spring term
Power. Core text: John Steinbeck – Of Mice and Men
Rationale: To explore the portrayal of race and segregation in literature. To explore the presentation of power in a range of texts and how a voice can portray ideas and attitudes.
Key knowledge
Race and segregation
Attitudes towards mental and physical disability / mental health
Key vocabulary
Segregation
Integration
Migrants
Itinerants
Key skills
Introduce common themes across literature, looking at comparison of texts
To secure the significance of writers' context and perspective
Develop a voice through informality and cynical writing
Accurately identify and apply grammatical constructions
Summer Term
Disasters and events. Core text: Power and Conflict poetry
Rationale: To explore the representation of power and conflict in literature discovering links between context and text.
Key knowledge
Context of WW1, WW2, Vietnam, Cambodia and Crimean wars
Censorship
Propaganda
Key vocabulary
Propaganda
Censorship
Patriotism
Heroism
Guilt
Honour
Key skills
Develop an extended analytical response to literature, including the significance of writers' context and perspective
Develop a ironical and cynical voice in writing
Secure writing skills for composition and transcription
Accurately identify and apply grammatical constructions
French
Autumn term
Theme: Identity and culture
Talk about pocket money and helping at home
Discuss issues faced by teenagers and understand advice
En pleine forme!
Healthy eating
Dangers of unhealthy lifestyle
Sports and importance of physical activity to stay fit
Spring term
Theme: Identity and culture & Current and future study and employment
Talk about festivals and events
Organising a party
Communicate with people in a formal situation
Discuss traditions and festivals (cultural capital)
Talk about jobs and qualities needed for certain professions
Discuss ideal jobs and ambitions
Talk about part time jobs (successes and failures)
Summer term
Theme: Identity and culture
Me, my family, and friends
Talking about getting on with others
Describing family members
Talking about future relationships
Discussing relationship choices
Geography
Autumn term
Crime
• What is crime?
• Where does crime take place?
• Crime in Hucknall
• Crime solutions
• Heroin Trail
• Piracy
• Livchenko Mystery
Cold Environments
• What are Cold Environments?
• How have people adapted to cold environments?
• Opportunities in cold environments
• Challenges in cold environments
• Cold areas under threat
• Managing cold environments.
Spring term
Conflict
• Why do we look at conflict in geography?
• Causes of conflict
• Rwanda
• Blood diamonds
• Middle East
• Iraq
Summer term
Hazards
• Structure of the Earth
• Volcanoes
• Montserrat
• Earthquakes
• Nepal
• Iceland
Local fieldwork
Hucknall pedestrianisation
History
Autumn term
WW1
• What was the Alliance system?
• What was the Arms Race?
• Why did war break out?
• What was life like in the trenches?
• What was there a Christmas Truce?
• Who were conscientious objectors?
• What role did women have in the war?
• Why did war end?
• What was the Treaty of Versailles?
American in the 1920s and 30s
• Why did people migrate to the USA?
• Why did America have an economic boom?
• What was prohibition?
• Al Capone
• Why did prohibition fail?
• Why was the KKK powerful?
• The Wall Street Crash
Spring term

The Rise of the Dictators
• Creating a dictatorship
• Dictatorship vs democracy
• Communism and fascism
• The USSR
• Italy and Mussolini
• The Rise of Hitler
• Appeasement
• How democracy is lost
WW2
• Blame for WW2
• Dunkirk
• Battle of Britain
• The Blitz spirit
• The Home Front
• WW2 and Hollywood
• Dresden
• The Atomic Bomb
• Churchill
Summer term

The Holocaust
• Jewish persecution in Nazi Germany
• Roots of Anti-Semitism
• Anti-Semitism over time
• Warsaw Ghetto
• Oskar Schindler
• The death camps
• Stories of the Holocaust
• Justice for the Holocaust
• Remembering the Holocaust
The Cold War
• The Origins of the Cold War
• Soviet expansion
• The Berlin Airlift
• The Hungarian uprising
• The Berlin Wall
• The Cuban Missile Crisis
• The Vietnam War
Mathematics
Autumn term
Equations and angles
Solving equations
Solving simultaneous equations
Basic angle facts
Angles in parallel lines
Bearings
Spring term
Graphs, Pythagoras and Trigonometry
Linear graphs
Quadratic graphs and their equations
Expanding double brackets
Factorising quadratics
Pythagoras
Trigonometry
Summer term
Construction, Algebra and probability
Constructions
Loci
Congruence
Similarity
Scatter diagrams
Rearranging equations
Probability
Music
Autumn term
Ukulele
Pop music
Spring term
Reggae
Hooks and riffs
Summer term
DJ-ing and dance music
Song choice
Personal development
Autumn term
Wellbeing and law and order
Body image
Self harm
Eating disorders
Selfie safety
Behaving to achieve
Young offenders and the law
Discrimination and the equality act
Human rights
Joint enterprise laws
Spring term
Sexual relationships GCSE options (RE curriculum)
Positive relationships
Contraception
Teenage pregnancy
Sexually transmitted infections
Abusive relationships
Options process
Decision making for careers
Summer term
Looking after myself and others human rights
Alcohol awareness
Drugs
Acid attacks
Vaccinations and organ donation
Dangers of pornography
The work of Unicef
Human trafficking
Female genital mutilation
Unifrog introduction
Careers research
Physical education
Students study the same activities in years 7 to 9 as this gives them the opportunity to show a greater level of progression in their tactical awareness, knowledge of the rules and skill level in each of the activities.
| | |
| --- | --- |
| Girls | Boys |
| Trampolining | Football |
| Table tennis | Rugby |
| Dance | Handball |
| Handball | Boxercise |
| Boxercise | Trampolining |
| Netball | Table tennis |
| Rounders | Rounders |
| Athletics | Athletics |
| Fitness | Fitness |
Photography
What is commercial photography?
Advert photography
Album cover photography
Magazine cover photography
Religious education
Spring term 
Multiculturalism
What is multiculturalism?
How multicultural are we?
What happens when multiculturalism doesn't work?
Why does multiculturalism make Britain a better place?
How can we promote multiculturalism?
Summer term 
Human rights
Who are UNICEF and what is their role?
What is human trafficking?
About FGM and what can be done to support those affected?
Science
Autumn term
Biology – detection
Metals and acids
Turning points in physics
Chemistry project
Spring term
Turning points in biology
Chemistry – detection
Physics – detection
Biology project
Summer term
Energy
Rocking
Psychology